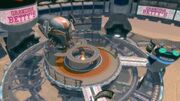 Grandma Betty's Arena is the arena for the Blitz tutorial at the start of the game. Originally built to test and train new entries to Monday Night Combat, it has two Bot Spawners and three Turret nubs (the nubs are inactive until later in the tutorial, after the Bullseye demonstration). It also sports a glass safety floor on the arena's periphery to help protect trainees from being Ringed Out too soon. Any Pro thrown to this safety floor can return to the arena by utilizing a Jump Pad located on that floor.
This arena has no other function than being the tutorial stadium and is not seen in other game modes.
This map also features the Assault's wave taunt exclusively to the tutorial.
Ad blocker interference detected!
Wikia is a free-to-use site that makes money from advertising. We have a modified experience for viewers using ad blockers

Wikia is not accessible if you've made further modifications. Remove the custom ad blocker rule(s) and the page will load as expected.