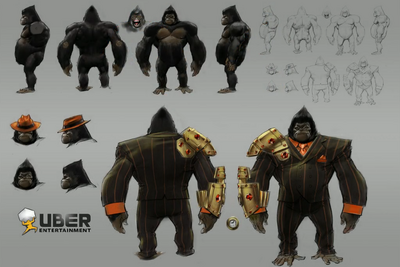 New Features
New Pro Cheston
New unnamed map
New death screen that shows off who killed you, two assisters, the types and the amount of damage done to you
Added a lot of new sounds
Added various new icons to replace old or missing ones
Added targeting lasers to all turrets so players know at whom they are firing
Added in range indicators to owners of Firebases/Combat Kitties
Added in quick chat menu. Default key is 'v', menu options 0-9.
Cheston
Primary Weapon: Tommy Gun, Alt Fire: Banana throw that will cause players to fall over
Secondary Weapon: Melee weapon: The Family Jewel, Alt Fire: Damage Grapple
Roar: Heals and speeds up allies in an area around Cheston, slows enemies
Exploding Barrel: Cheston throws a barrel that will roll on the ground until it hits a wall or an enemy, then creating a burning explosion
Rampage: Cheston goes down on all fours running around damaging and tossing enemies he runs near by
Assault
Fixed issues where the Bomb skill would recover while the Bomb existed at levels 2/3/4.
Grenade Launcher Damage: 100 -> 85
Fly Speed: 250/250/250/250 -> 150/150/150/150
Karl
Increased Stun radius from 128 -> 192
Karl is now immune to his own stuns
New model for Junior
Handler Damage: 28->31
Bouncing Buddy Damage: 50 -> 60
Bouncing Buddy Lifetime: 2 -> 1
Bouncing Buddy Reload: 2 -> 1.75
Junior now has a lifetime after detection so it no longer has a short lifespan if detected an enemy after being around a while
New art for Handler
Veteran
Pros now play a unique animation when getting pulled by the Ka-Claw
Falcon Damage: 50 -> 40
Falcon Damage Radius:256 -> 128
Gunner
Minigun Fire Interval: 0.1 -> 0.15
Minigun Damage: 16 -> 28
Dual Minigun Fire Interval: 0.05 -> 0.1
Dual Minigun Damage: 8 -> 19
Tank
Jet Gun Damage: 15 -> 18
Rail Gun Damage: 75 -> 90
Tank Shield: Reduced recharge and made the recharge only start after the shield is gone
Sniper
Fixed an issue that cause the freeze to go on much longer than it should.
Normalize freeze times to 1.5 seconds
SMG Magazine Size: 10 -> 16
Support
Made the Firebase range ramp with Support's level
Shotgun Minimum Damage: 1 -> 10
Over Clock Range: 1.25x -> 1.34x
Firebase Base Sight Range: 1536 -> 1024
Firebase Damage: 8/15 -> 9/18
Fixed Hurt Gun from keeping players from jumping, now will apply normal jump debuff when slowed
Combat Girl
Nail Gun Magazine Size: 10 -> 15
Fortify Cooldown: 30/15/10/7.5 -> 60/30/20/15
Assassin
Dagger Damage: 60 -> 55
Lunge Damage: 70 -> 60
Sword Damage: 60 -> 55
Cloak Time: 3/4/6/7.5 -> 7.5/8.5/10/12
Removed active cloak sound
Gunslinger
Pistol Damage: 35 -> 33
Magazine Size: 15 -> 6
Trigger Happy Cooldown: 30/15/10/7.5 -> 60/30/20/15
Gun Flurry Cooldown: 30/15/10/7.5 -> 60/30/20/15
Knee Cap now causes jump debuff like other slow effects
Bots
Speed increase: 10/20/30 -> 15/30/45 (Bots get speed increase every 5 minutes in crossfire)
Bouncer Damage: 1000 -> 500
Bouncer Grapple Damage: 1500 -> 750
Scrambler Health: 2500 -> 2000
Scramblers now lock out skills, not drain them
Shady Bots no longer knockback on their punch
Shady Bot Melee Damage: 200 -> 150
Other Balance and Adjustments
Increase bot rating level ramping. 1x to 2.5x -> 1x to 3x
Reduced collision boxes for most Pros. Players shouldn't be getting hung up on geometry as much, pros should be slightly more difficult to hit
Changes the spawn tables so that Jackbots spawn around 25 minutes on opposite lanes
All slow effects now affect flight speeds
Bug Fixes
Fixed an issue that allowed certain projectiles to penetrate the player spawn's protective walls
Fixed pro passive skills showing up in the pro descriptions in the locker room
Fixed some chat issues involving special characters like < and >
Fixed some instances of Tank's Jet Gun effect not showing up
Fixed some issues with the Sniper Rifle's zoom display showing up and staying up
Fixed some locations around Loco Moco Arena that allowed players to stand on geometry when they shouldn't be able to
Fixed Gunners and Tanks taking double headshots
Fixed chat scrollbar not going away in-game
Fixed most of the issues with rejoining games
Fixed, removed, extra category icon in the class chooser that did nothing
Fixed negative level in XP bar at end game
Fixed allied Fujibots from blocking Pros
Fixed Support Heal/Hurt gun from being able to perma-slow
Fixed Firebases/Combat Kitties from firing at turrets with their shield up
Fixed some issues with controller settings not saving properly
Fixed bots getting into player spawners
Ad blocker interference detected!
Wikia is a free-to-use site that makes money from advertising. We have a modified experience for viewers using ad blockers

Wikia is not accessible if you've made further modifications. Remove the custom ad blocker rule(s) and the page will load as expected.