Turbocross is the new gamemode which was introduced in Rule Change 7. Turbocross has been described by many as a mode which returns Super MNC to the original Monday Night Combat's approximate game speed.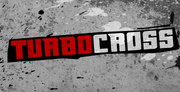 These are the new features of Turbocross:
Higher lethality - Health set to Super Crossfire level 15, damage even higher.
Rebuildable Turrets - nubs come back after 3 minutes
All throw and momentum push distances increased by 25%
Faster Movement of Bots and Pros
No passive health and damage improvements as you level up
Pros still level up to enable skill upgrading.
Prebuilt turret setup per lane:

Front - Level 3 Lazer Blazer
Middle - Turret nub
Moneyball - Level 3 RockIt

Turrets that are prebuilt on the map now have shields that once taken down, do not come back. Player built turrets do not have shields.
More powerful Jackbots
"March of the Jackbots" starts at 15 minutes
Respawn times are initially very fast but increase as the game goes on.
No one hit kills, but pretty close!
CC and XP awards are calculated differently but in the same approximate rate as Super Crossfire
Products and Endorsements are still enabled.
Health regeneration takes a longer time to start but recovers much more quickly.
Juice heals you to full.
Breach bots still spawn the same way as Super Crossfire, although they move faster.
Ad blocker interference detected!
Wikia is a free-to-use site that makes money from advertising. We have a modified experience for viewers using ad blockers

Wikia is not accessible if you've made further modifications. Remove the custom ad blocker rule(s) and the page will load as expected.