Cleanup (issue: not specified)
This article may require cleanup to meet Monday Night Combat Wiki's quality standards. Please improve the article if you can.
Uncle Tully's Funland



Map type:

Crossfire

File name:

DLC2_UncleTullys

Developer:

Uber Entertainment
Description
Edit
"Uncle Tully's is the first of our throwback arenas. We're revisiting MNC arenas of the past that were never kept up and weathered away. So you'll notice more wear and tear, different materials, Tully's was a Coney Island like place that was converted to an MNC arena."
Uncle Tully's Funland is a Crossfire arena that premiered at PAX East 2011. This arena is more vertically oriented than most Crossfire arenas, and many jump pads will launch the player in an arc to the other side of the arena.
There is a bounce pit in the middle of the map, the annihilator is positioned in the center on a pedestal, making it a little difficult to land on. The two juice buying stations are on smaller pedestals on either side of the bounce pit. The arena was added to Monday Night Combat as part of an update on April 22, 2011.
Like in Spunky Cola Arena, the two Bot Spawners in each team's zone are side by side, the the two lanes quickly converge into a single Bot Lane. Players can spawn the default bots (BlackJack and Slim) by buying them for $50. 2 Blackjacks or 3 Slims, in addition to the normal bot waves. You are able to buy all the special bots, except Buzzers (including the Jackbot) as long as the button is recharged. Jackbot / Slimbot / Blackjack spawn buttons are in front of the spawn room door. Bouncer / Gapshot / Gremlin / Scrambler buttons are on the bottom right side of your respective base. Gapshots take the longest to regenerate out of the special bots.
Uncle Tully's Funland's most notable feature is the occasional appearance of Chickey Cantor, a giant chicken Bot that can appear in one of the two pen areas located off to either side of the arena.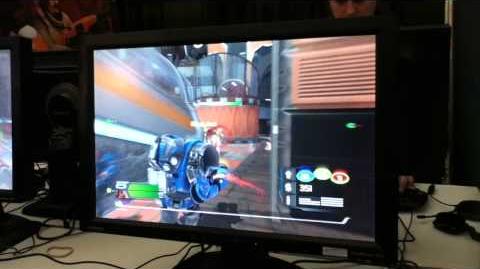 Jackbots sometimes stop from moving.

This can cause bots to stop too.

Chickey Cantor can fall out of the arena.
Bots can fall in the bounce pit.
Ad blocker interference detected!
Wikia is a free-to-use site that makes money from advertising. We have a modified experience for viewers using ad blockers

Wikia is not accessible if you've made further modifications. Remove the custom ad blocker rule(s) and the page will load as expected.