"Uber Entertainment is revealing one of the newest characters in SMNC on Shacknews: Karl, a reconnaissance cyborg who just happens to think he's human."

On September 13, 2011 a new Pro was announced in the Super MNC forums, more informations about Karl can be found on the Shacknews article here.
See also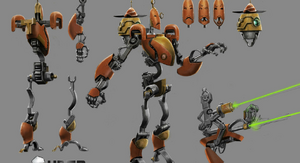 Ad blocker interference detected!
Wikia is a free-to-use site that makes money from advertising. We have a modified experience for viewers using ad blockers

Wikia is not accessible if you've made further modifications. Remove the custom ad blocker rule(s) and the page will load as expected.