Monday Night Combat is now avaiable for PC through Steam for $14.99. Den Kirson and his site of raw game data has also added Monday Night Combat to its library of popular shooters. If you enjoy digesting a wealth of raw info, take a look.
Edit: Penny Arcade and Team Fortress 2 also appear to have a tie-in from the images from the Steam Store page.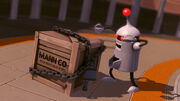 Edit2: Oh they're gonna have ta' glue you back together...IN SPAWN! aka Team Fortress 2 and MNC cross-promotion.
Edit3: PC Launch Video, now with hats!
Ad blocker interference detected!
Wikia is a free-to-use site that makes money from advertising. We have a modified experience for viewers using ad blockers

Wikia is not accessible if you've made further modifications. Remove the custom ad blocker rule(s) and the page will load as expected.